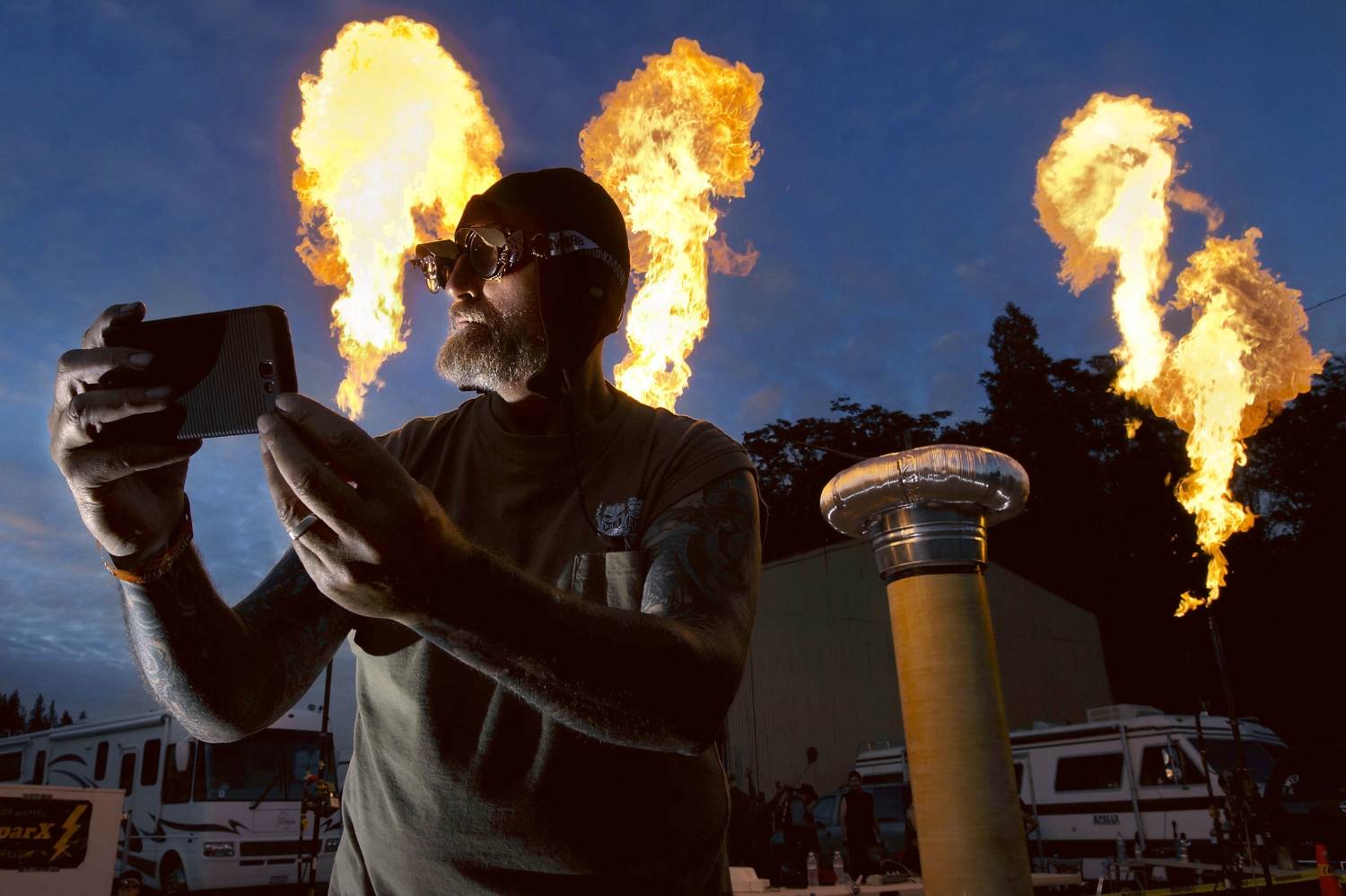 "Wild" Bill Hill takes a photo of himself in front of large bursts of fire during the 'Fire and Steel' event in Colfax on Saturday, June 14, 2014
Former Negro Leagues baseball player Elmer Carter 98, at his home in Rancho Cordova on Wednesday, March 11, 2009. Carter is believed to be one of the few remaining Negro Leagues players still living, and played for the Kansas City Monarchs from 1929-1931.
Former vice-presidential candidate Geraldine Ferraro at the offices of Global Consulting Group where she works as a Senior Advisor, in Sacramento on Wednesday June 13, 2007.
Restauranteur and Food Network personality, Guy Fieri at his restaurant, Tex Wasabi's in Sacramento on Tuesday March 27, 2007.
Mural artist Alex Forster stands in front of his artwork at 24th Street and Broadway in Sacramento on Monday, April18, 2011.
Former NBA star Mitch Richmond in Sacramento on Thursday, March 7, 2013.
Jeannie Schulz, wife of "Peanuts" comic strip creator Charles Schulz at the Charles M. Schulz Museum in Santa Rosa on Wednesday July 18, 2007.
Cosmologist Stephen Hawking delivers the annual J. Robert Oppenheimer Lecture in Physics at Zellerbach Hall at UC Berkeley on Tuesday March 13, 2007.
Radio host Tom Sullivan broadcasts from the KFBK radio studio in Sacramento on Wednesday August 29, 2007.
Dr. Robin Zasio in her office in Sacramento on Wednesday, November 9, 2011. Zasio is "Dr. Zasio" from the television program, "Hoarders."
Her arms full of other groceries, an unidentified woman carries food on her head in Port Moresby, Papua New Guinea.
Magazine CEO Anthony Glover, left, and company COO Tim Merri at the offices of LuxLife magazine in Sacramento on Tuesday January 29, 2008.
Tower Records founder Russ Solomon in the original Tower Records store on Broadway in Sacramento on Wednesday May 16, 2007.
Pastor Tamara Bennett at the "This Is Pentacost" Fellowship Ministries in South Sacramento on Tuesday September 23, 2008.
California Governor Jerry Brown sits in the governor's capitol office in Sacramento on Tuesday, December 1, 2015. Brown will be leaving for Paris France to participate in a global conference on climate change a few days later. As California's governor, climate change is one of his biggest issues.